Modern vs. Tradition: How to Express Yourself in Your Wedding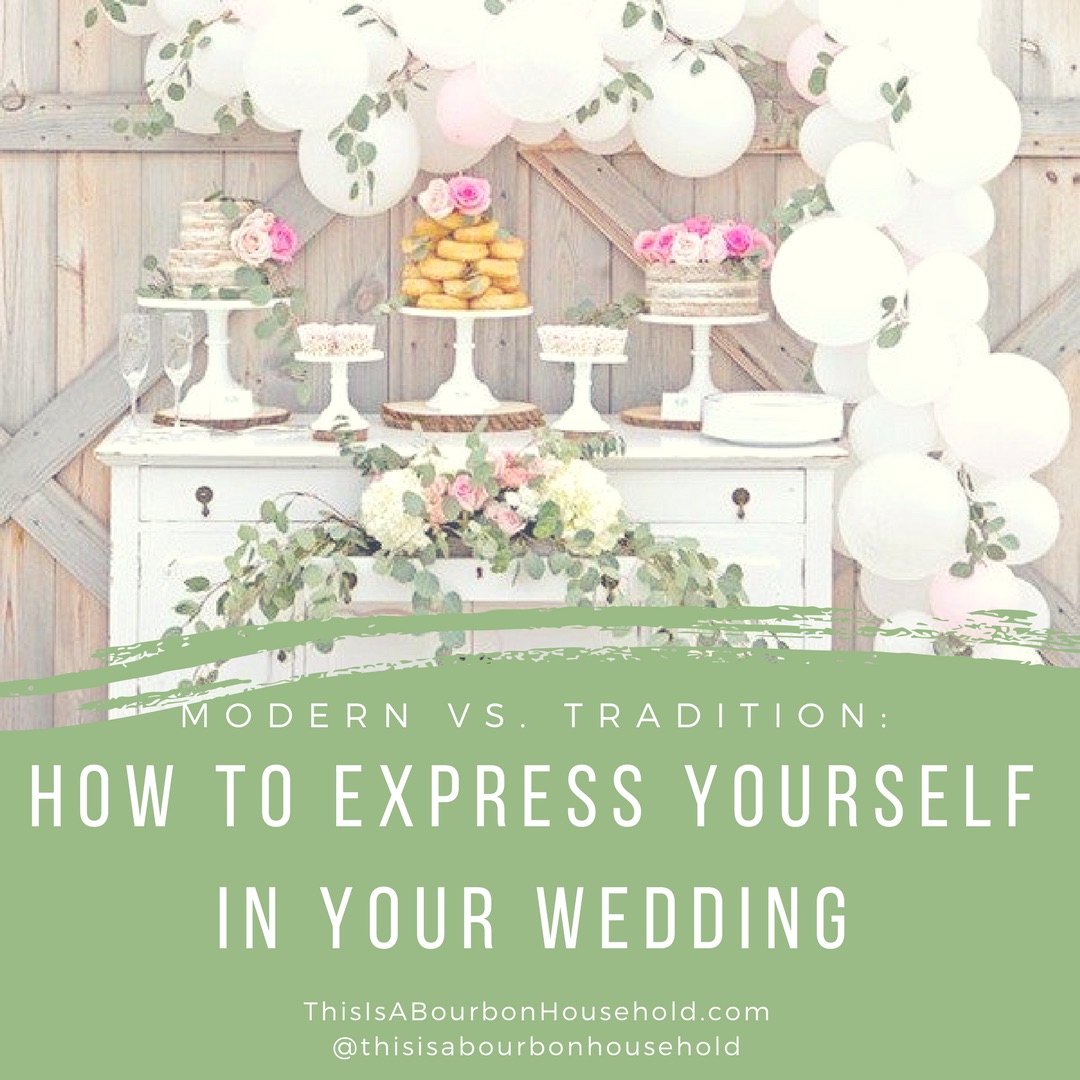 Congratulations!  You're getting married!  You're now eligible to receive advice from your married friends and family, whether that advice is wanted or not! The people who have been through the wedding planning process before may try and tell you exactly what you do and do not need to do. It's not their fault - they're just trying to help...usually. Sometimes you may even end up with a mother or grandmother who subconsciously try to live out their wedding day dreams through you with ideas you don't even like.  Maybe they only got to have courthouse wedding, maybe they look back and realize they hated their dress or their venue or their photographers style.  Whatever it is, prepare yourself!  You won't get through this process without at least one person trying to tell you what to do.
One thing you will for sure come across are wedding traditions and everyones opinion on them.  While listening to everyone and taking some of their advice isn't a bad thing, just make sure that you don't lose yourself in the planning process.  Don't succumb to certain requests because someone else thinks their opinion is the right way or it's the current trend.  We're in 2018 now!  It's more than okay to be your own person.  Planning a wedding can be overwhelming, so discuss options with your significant other and make decisions based on what expresses you as a couple and as individuals.
Choose wedding colors that express who you are!
Most couples have their wedding colors coincide with the season they're getting married.  Fall brings deep oranges, purples, burgundy, navy, gold, and emerald.  Spring brings the pale blues, pale pinks, peach, mint and a lot of white.  Summer weddings usually come with bright colors - greens, hot pink, yellow (sunflowers!), white, turquoise, and purples.  Winter weddings either move in the directions of all white or head the opposite way into the reds and greens for Christmas.  But hey, if you and your better half want a winter wedding with hot pink and royal blue, by all means go for it!  (...and if you actually choose those two colors, PLEASE hire a wedding designer so it doesn't look tacky! Ha!)
If you loathe the color pink (like my tomboy self), steer away from it!  Don't add a little here and there just because someone says pink and gray are the popular style right now.  Although, we finally seem to be getting past that popular color combo.  As a wedding planner, I can say that you're pretty much exhausted from certain color themes by the end of wedding season.
2. Don't want a veil? Don't wear a veil.
Hopefully if you're planning a wedding, you've at least met your future husband or wife! Veils became a thing looooong ago when parents were arranging marriages for their children.  The bride and groom would meet for the first time at the altar! CRAZY, right?!  Brides were required to wear a veil so that the groom would have to marry them before fully seeing their features.  This removed the chance that the groom could be unattracted to the bride and cancel the wedding.  So, if you want a veil, wear a veil.  If you want a veil alternative, go for it.  If you don't want a veil at all, then just make sure your hair looks fabulous!  For veil & alternative veil ideas, click this link to my Pinterest board!
[amazon_link asins='B01MRI16HA,B072MX17MW,B01F7Y4EAU,B06XTCF78C,B076P4BVLR,B00SAHHM92,B01BSFQKHC,B071H3644R,B071VSH6TG,B071RGNZRR' template='ProductCarousel' store='thisisabourbo-20' marketplace='US' link_id='8adbdb9e-28c6-11e8-95a1-b12f718ddb0d']
3. First Look or nah?
Having a "first look" is a tradition that I've contemplated back and forth 100 times.  Before I became a wedding planner, I was in that superstitious group who thinks the groom seeing the bride before she walks down the aisle is a big, bad luck, no no.  Other wedding planners around me were swearing up and down that every couple should do a first look because of convenience and being able to share a private moment.  I struggled with the thought of a first look but after working as an assistant coordinator for my first few weddings, I started to see the benefits.  Just like the veil, the tradition of not seeing the bride before she walks down the aisle is said to have started so that men couldn't put a stop to their arranged marriage.  But you know who you're marrying and your bride or groom does too.
A first look provides a couple a private moment to truly express themselves.  A private moment for the groom to tell the bride how beautiful she looks.  A private moment for the couple to tell each other how happy they are.  Once the ceremony starts, you aren't really given time for this.  Don't worry, every groom I've seen cry during the first look, has still cried when the bride walks down the aisle as well.  Having your first look also allows you to go ahead and take some pictures before the ceremony starts, whether just the two of you or with your whole wedding party.  Let's be honest, what cocktail hour really only lasts for one hour when the bride and groom didn't do a first look?  Very few!  One hour tends to be too short of time for a photographer to get all of the perfect shots you've asked for.  Save the cocktail hour for photos with your family and maybe a few extra photos with your bridal party and new husband or wife.  I have plenty of wedding photo inspiration here!
4. White Dress vs. Colored Dress
It's been said that Queen Victoria of England was the first to wear a white wedding dress, and when she did, the world went nuts!  Ever since, a white dress has been tradition and it's unlikely that you'll find wedding dress shops with many colorful options.  That being said, the whole "you must wear a white dress for purity" thing was kinda just made up afterwards.  There's nothing stopping you from wearing an off-white or colorful wedding dress if that's what your heart desires, except maybe your traditional grandma.  Your guests will remember a unique dress over any other wedding dress they've seen too!  Find your wedding dress inspiration here.
[amazon_link asins='B077GWYLMV,B076HN7956,B07748D546,B00Y4HG8RY' template='ProductGrid' store='thisisabourbo-20' marketplace='US' link_id='701558ab-28c7-11e8-822c-7b7ab8d1a644']
5. Wedding Cake or Dessert Bar?
Personally, I'll take both! Haha!  Supposedly, cutting the cake with your bride or groom symbolizes your commitment and the first thing you do together as husband and wife.  But you just exchanged rings, took more pictures during your cocktail hour, had your first dance, and maybe even ate dinner already...so cutting the cake isn't exactly your first task at hand as a couple anyways.  Now I'm definitely not saying you shouldn't have a wedding cake, because I will literally try a slice of each flavor if I'm there.  However, if you're not a big cake & icing person and you choose to opt out and go for a dessert bar, I doubt your guests would mind very much.  There are so many options these days that couples are trying and they're all a big hit - donut bars, s'mores bars, cookies & ice cream bars.  The possibilities are as endless as the different types of desserts in this world.  You can find more ideas by visiting my Pinterest board, Wedding Dessert Table!
6. The Garter Toss
Now this tradition is one that I still get a kick out of.  Originally, wedding guests would rip the brides dress to shreds at the reception because they believed it brought them good luck.  To aid his new bride, the groom started removing the garter and tossing it into the crowd to distract the guests so the bride and groom could sneak away.  If someone tries to rip my dress at my reception, I'll tell you right now that that person won't have a hand anymore! Haha!
I do see more and more couples steering away from this tradition.  It seems to mainly stem from the fact that most guys these days have to be dragged onto the floor, and once they're up they don't even stick their hands out to attempt to catch it.  While it can make for an awkward moment, there are ways to get those guys interested.  How you ask?  An incentive!  When Christopher and I get married, we plan on having the band announce that an unopened, top-shelf bottle of bourbon awaits the man who catches the garter.  Seeing as we live in Kentucky, I'm sure even the married men will be on that dance floor!
[amazon_link asins='B01B4HI85G,B01FSEI34C,B01B1GS882,B01ISCGATG,B01N0U1734,B078NLB3KZ,B01BS9A1EQ,B075JD4H8N,B07195BTG8,B076872FKG' template='ProductCarousel' store='thisisabourbo-20' marketplace='US' link_id='fee20c2d-28c7-11e8-bd0a-b33eef61f4fb']
7.  Wedding Registries...but who doesn't love gifts?
As a self-diagnosed Bed, Bath, & Beyond and Amazon addict, I can guarantee you that Christopher and I will be creating registries because HOME DECOR!  However, if you think you have everything you currently need and simply don't have enough room for more pots and pans, try an alternative.  Pick a charity or organization and ask your guests to donate.  Personally, I love donating to animal shelters, such as the Lexington Humane Society.  Another option would be to ask guests to donate to a honeymoon fund or down payment on a first home fund.  I've had people comment before and say that asking for money over gifts isn't appropriate because then you'll know how much each person spent on you.  Um helloooo, if they bought you something off of your registry, then you'd know the cost anyways.  If you want a phenomenal registry with items of all price ranges, I highly recommend Amazon's Wedding Registry.  There's soooo much to choose from and it'll make your guests who get free shipping from Amazon Prime very happy!