The MUST HAVE Product For Anyone Who Works On Their Feet!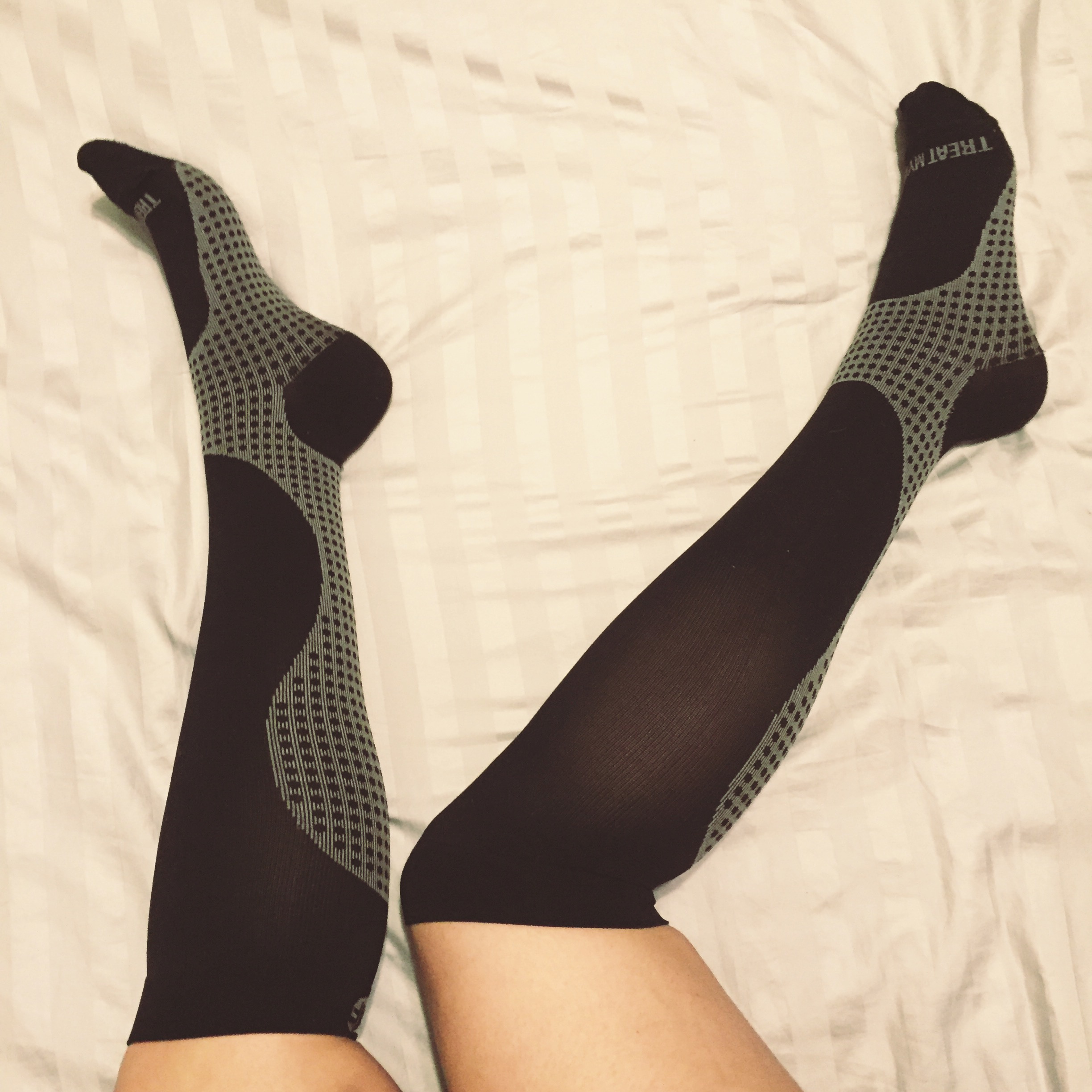 Just about anyone who works on their feet knows the power of relaxation at the end of the day when you're done with work.  It's the time when we finally get to put our feet up and rest, get a massage, a pedicure, or whatever else it is that makes you feel better.  As a wedding planner, I usually feel like I have nails in my feet after a long day of coordinating a wedding.
I will tell you right now, we don't work in heels like J-Lo in the movie, The Wedding Planner, but usually in flats, sandals, or tennis shoes.  Even still, the day after coordinating a wedding I will literally sit my butt on the couch all day long and be as lazy as possible because my feet and legs are so sore.
I'll take a massage any day of the week...but I don't exactly have the funds to keep up with that kind of lifestyle.  So until I'm a millionaire one day, this new product that I received this past week is my new favorite thing - COMPRESSION SOCKS!
I decided to try them out on Sunday, after helping coordinate a luncheon and then a wedding on Saturday.  OH MY GOSH!  I could instantly feel the pressure from the nylon and spandex material on the balls of my feet, ankles, and calves.  The painful feeling of needles in my feet literally went away immediately and if I had multiple pairs, I'd probably wear them every single day!  Good news though - even after washing them, they won't lose their compression.
If you're a wedding coordinator, server/bartender, nurse, realtor, retail sales associate, construction worker, athlete, or work any other job where you're on your feet constantly, you MUST try this compression method!  They're also great for anyone who tends to get shin splints and can even be worn while you're at the gym or on your feet, not just afterwards when you're trying to relax.
[amazon_link asins='B01J0EI9AO' template='ProductCarousel' store='thisisabourbo-20' marketplace='US' link_id='80193f1b-4282-11e8-bc82-5b1760be0313']
I ordered these compression socks by Treat My Feet through Amazon Prime.  The ones I got were the black & gray in a size small.  They also have medium and large sizes, and multiple colors including nude, purple, and blue.  You can see the gray on my socks in the picture above are where the compression gets you the most.