Your New Favorite Healthy Shake!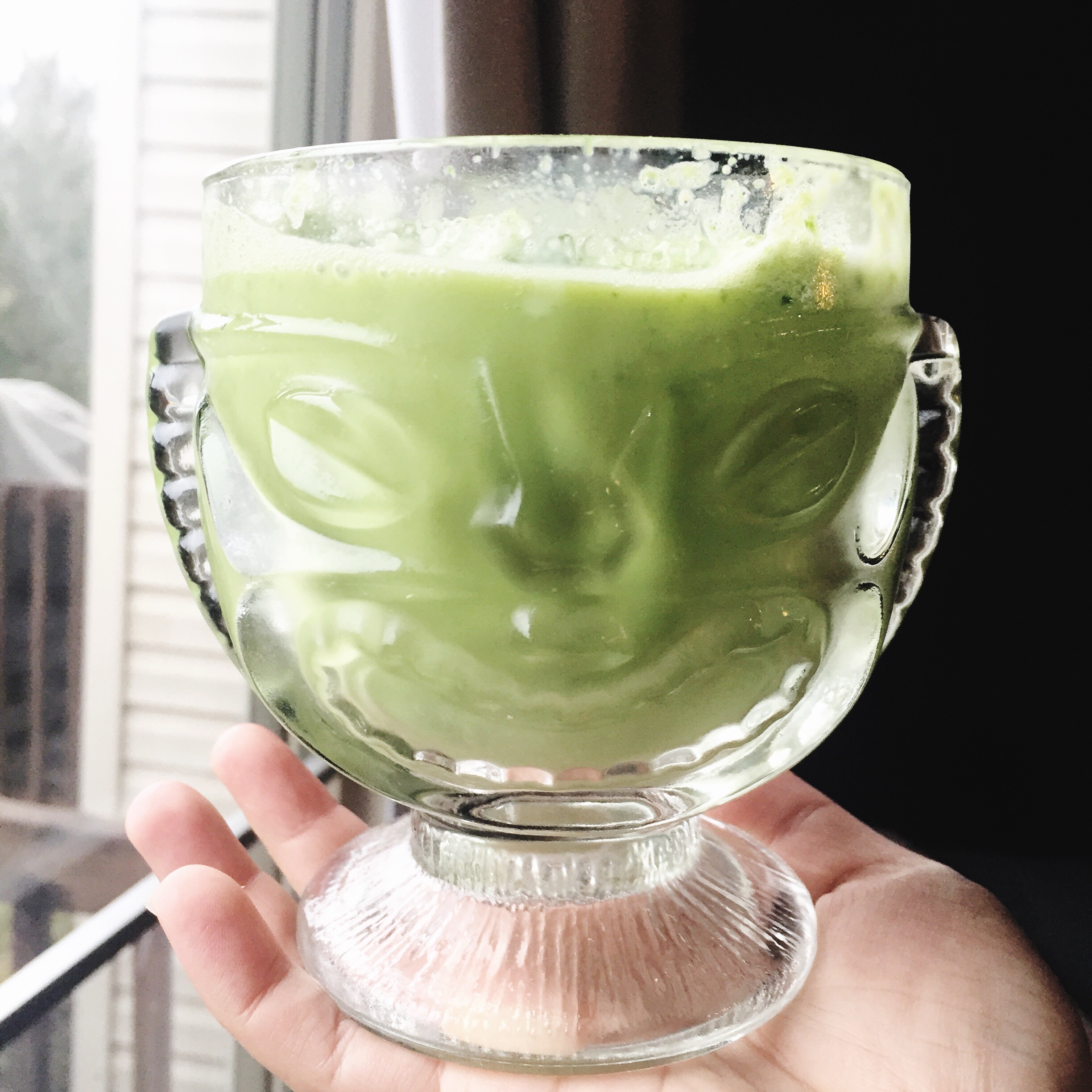 Lately I've been getting really into fitness and nutrition. Lord knows I've tried to start a healthy-eating lifestyle for so long, but I really feel like it's starting to kick in. After reading so many articles, working on this online fitness nutrition course I'm currently taking, and dating a health nut, I've started to understand just how crappy I've been eating for so long. Don't get me wrong, I still enjoy the occasional...er, frequent...cheat meal, but I eat healthy the majority of the week and that's a start at least! Generally I save the bad food for the evening when Christopher and I have finally relaxed on the couch and turned on a Netflix documentary. There's also the insanely addictive dry rub boneless wings at our local neighborhood bar, Banners, that get me every time. Sorry, not sorry! My taste buds enjoy them and I think they deserve to taste the deliciousness every weekend. Anyway, back to the healthy eating topic...every now and then I get on a protein shake kick.  They're super easy to make and there are endless recipe possibilities!  Shakes are something that can be thrown together and drank on your way to work, right after a workout, or any other time when cooking an actual meal is just too time consuming.
[amazon_link asins='B075FR1MV2,B006VT9R62,B002DYJ1EC,B01M0DQE5Z,B01DYK5ZAW,B073DVHZCB,B06Y5YVPQG,B079C2GSBM,B00U47FDP6,B012T634SM' template='ProductCarousel' store='thisisabourbo-20' marketplace='US' link_id='dd875914-15ec-11e8-beb0-3371cf38597a']
Recently, one of my coworkers who is a super health freak, poured me a sample of his protein shake and HOLY WOW I was blown away. So much so that I ended up stocking up on the ingredients that very same week. The only other ingredient he had in his that I did not purchase was the vanilla whey protein. This is only because we already have a giant container of chocolate protein powder at the house that I'd like to finish first.
I didn't ask my coworker the proportions he used for his shake, so I've been playing around with the ingredients and doing different proportions each time. Today's was just magnificent, so I decided it needed to be shared...the recipe, not my shake ;)
Ingredients (for 2 servings):
2 cups almond milk
2 tbsp PB Fit peanut butter powder
1 oz spinach
ice
Thankfully, Christopher and I usually purchase these ingredients on a regular basis (minus the PB Fit), so even if I don't make the shake very often, we will at least still use the ingredients for other recipes without them going bad.
This was the first time I've purchased PB Fit and I won't beat around the bush...this sh*t is incredible!  It's basically just peanut butter in powder form and without the oils, making it much healthier for you as well.  One serving is two tablespoons and has 90% less fat and 1/3 of the calories as regular peanut butter.  Soooo, um, yes please.
Now, while I actually do love spinach, I know many people don't.  If you make your shake with the proportions I listed above AND puree it in your blender, you'll get a great peanut buttery, milkshakey taste that covers the taste of the spinach.  I kept the blender on for about 45 seconds to break down the spinach and prevent the shake from having a grainy texture.  Depending on your blender, you may be able to run it for a shorter amount of time.  Our blender is pretty much on it's last leg and needs to be replaced.  I would recommend blending it until it looks smooth and then testing a sample.  If it has a grainy texture, keep on blending!
Not only does this PB Fit Spinach Shake taste amazing, it's low in calories and loaded with vitamin A and calcium!  After entering the ingredients into my MyFitnessPal account, I learned that one serving of this shake provides the following nutrition:
88 Calories
180 mg Potassium
10.5 g Carbs
2.3 g Fiber
8 g Sugar
4.3 g Protein
36.67% Vitamin A
6.67% Vitamin C
47.33% Calcium
6.5% Iron